We were at the Joey Bada$$ show this past thursday and young Julian on the Radio popped up.  He did a review on the show, peep his words after the jump.  By the way the show was super cold!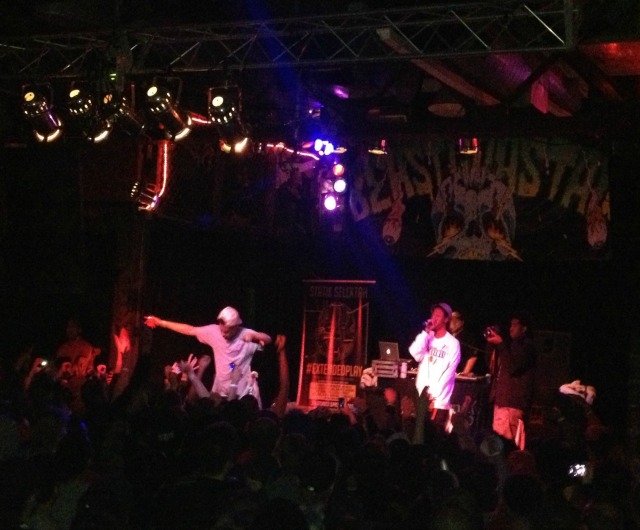 Last Thursday night I had the pleasure, and when I say pleasure I mean it. Joey Badass was in Chicago performing for a show that sold out a month ago! I was first turned onto Joey when I saw him appear on a track called "America", with Mac Miller. Super Dope!  Being a cat that grew up on 90′s hip hop I automatically knew Joey was from NYC. He has that NYC swag man. With his style I hear influences from Nas, Mobb Deep, and Black Moon all rolled into.
I got to Reggies when he was 2 songs into his set. I'll be honest I don't know all his music but he did tracks from "1999″, and his newest mixtape. Some of my top picks of course are "Waves, Hardknock, and Survival Tactics". His crew "Pro Era", were also dope as well, and can definitely spit in their own right. He already performed on the "Smokers Club Tour" last year, and dude's headlining the country right now. Joey Badass is only 18 by the way!? It's crazy at 18 selling out shows all over the country off ONE mixtape!
I'll end this review with this piece. During his set at Reggie's he stopped the music and basically shared with the audience that about 1 year ago he was in school not "knowing what the F he was gonna do with his life, and had no direction. A year later he's selling out shows and kids his age are coming out to see, and support his movement." It's funny how I kinda am taking advice from an 18 year old kid. What you may not know about me is that I'm a 14 year major market radio personality and am going thru some pretty hard times right now. But, I do know in a year anything can happen. So, with that said to anyone who reads this remember that. ANYTHING can happen BUT you also have to make it happen, and have the skills to back it up. Joey Badass is raw as hell. Make sure to peep one of my favorite "Joey Badass" videos in my "Video Section".