Travis has been merking stages all over the US and he is now coming to Chicago for the Stacked event, this will be epic and you want to go check it out.  Its a 17+ event check out the facebook event page HERE and make sure you buy your tickets HERE click after the jump for all the details.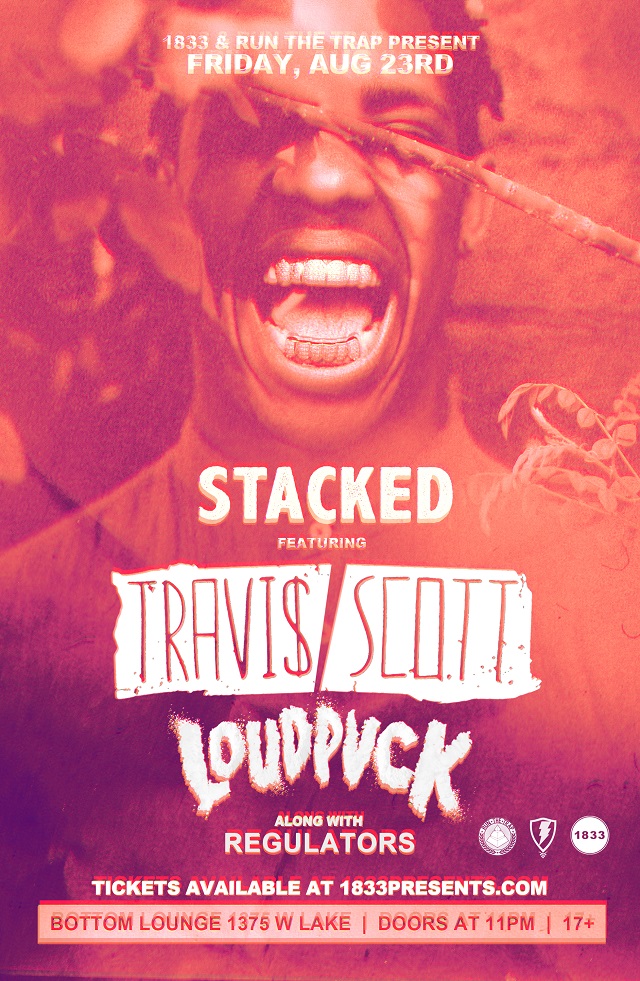 TICKETS: http://www.1833presents.com/event/travi-scott/
FACEBOOK: http://www.facebook.com/events/203580546471394/
INFO:
1833 + Run The Trap Present:
$$$ STACKED $$$
feat.
TRAVI$ SCOTT
http://travisscott.com/
https://soundcloud.com/travisscott-2
With Special Guest
LOUDPVCK
https://soundcloud.com/loudpvck
And Support From
REGULATORS
https://soundcloud.com/weregulate
TICKETS
http://www.1833presents.com/event/travi-scott/
Supported By
JUGRNAUT – http://jugrnaut.com
BOTTOM LOUNGE
Friday August 23rd
Doors at 11:00PM | 17+
Like Us at
http://facebook.com/1833presents
http://facebook.com/RunTheTrap
Follow Us at
http://twitter.com/1833presents
http://twitter.com/RunTheTrap
BOTTOM LOUNGE
1375 W Lake St.
Chicago, IL