I had the pleasure of going to the Improve in Schaumburg with the lil buddy Julian on the Radio.  We went to see Ralphy May and man o man, this dude is highlarious!!!  Peep young Julians review after the jump.  When you get a chance, no rapper….lol peep his site HERE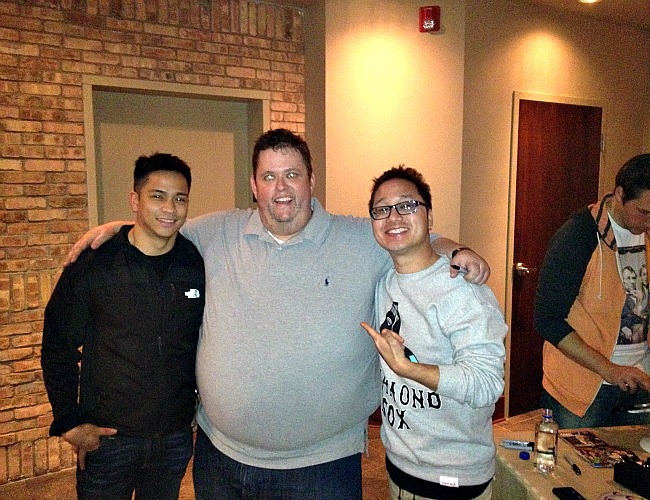 Hey You! So I've been meaning to post all the stuff I think is really cool lately but I've been swamped with alot of events this past week. Be patient with me:)
Lets start off with last Thursday. Myself, the homie Mr. Rogers from Jugrnaut, and Alvin all were super hype to see Ralphie May at the Improv Schaumburg. I really wanna see more shows here. I "Love Love" The Improv because the place is really NICE. You get that small personable feel in the room, and the seating is super comfortable and your not crammed next to people. Thats really important to me. I mean who wants to be sitting right next to someone where you can't move your arms or be comfy right?
I'll go ahead and just tell you Ralphie May is a genius! He really is. I've never seen him live but have caught past videos. I feel he's changed a bit. Maybe matured? He's married and has kids. Of course he talked about that, along with his trademark bits covering race, and being a "large mammal". One thing about his act thats super cool, and I never even knew is he doesn't repeat his jokes. Meaning most comics you see will repeat their performances and jokes. May doesn't do that. So, if you saw one of his other shows the jokes would be entirely different from another. I think thats dope because every audience gets something different. I can't even tell you how talented this guy is. He literally can freestyle and pull comedy just from observing the audience LOL. He performed for close to 2 hours which was an hour MORE than he had to perform.
After the show, all 3 of us agreed hands down Ralphie May was definitely the best we have seen. Roger had never been to The Improv and had an amazing time. I'm pumped to see Jo Koy in the next few weeks at The Improv as well. Oh, by the way google Ralphie May's wife. She is so DOPE! Whoever said funny guys don't get the girls right?