Since I was 12 years old, I've gone to Lollapalooza. At 22, this will be my 9th Lollapalooza in 10 years. My only miss being 2009, when the Beastie Boys were scheduled to headline Saturday night but canceled due to MCA's cancer diagnosis. I was so upset I sold my 3 day pass for less than I paid.
Ever since, one way or another, I've gone to Lollapalooza every year. I've saved up all my summer job money for a ticket before and I've been given free tickets before. Somehow, someway, I always seem to get in. This year, however, is going to be a little different. The festival starts on Thursday this year, it's first time as a 4 day festival for its 25th anniversary. That means way more artists, way more walking, and way more attendees. With 200+ artists scheduled to play over the next 4 days, here's a little preview to help those who might not know everyone performing find who might put on the best show for them.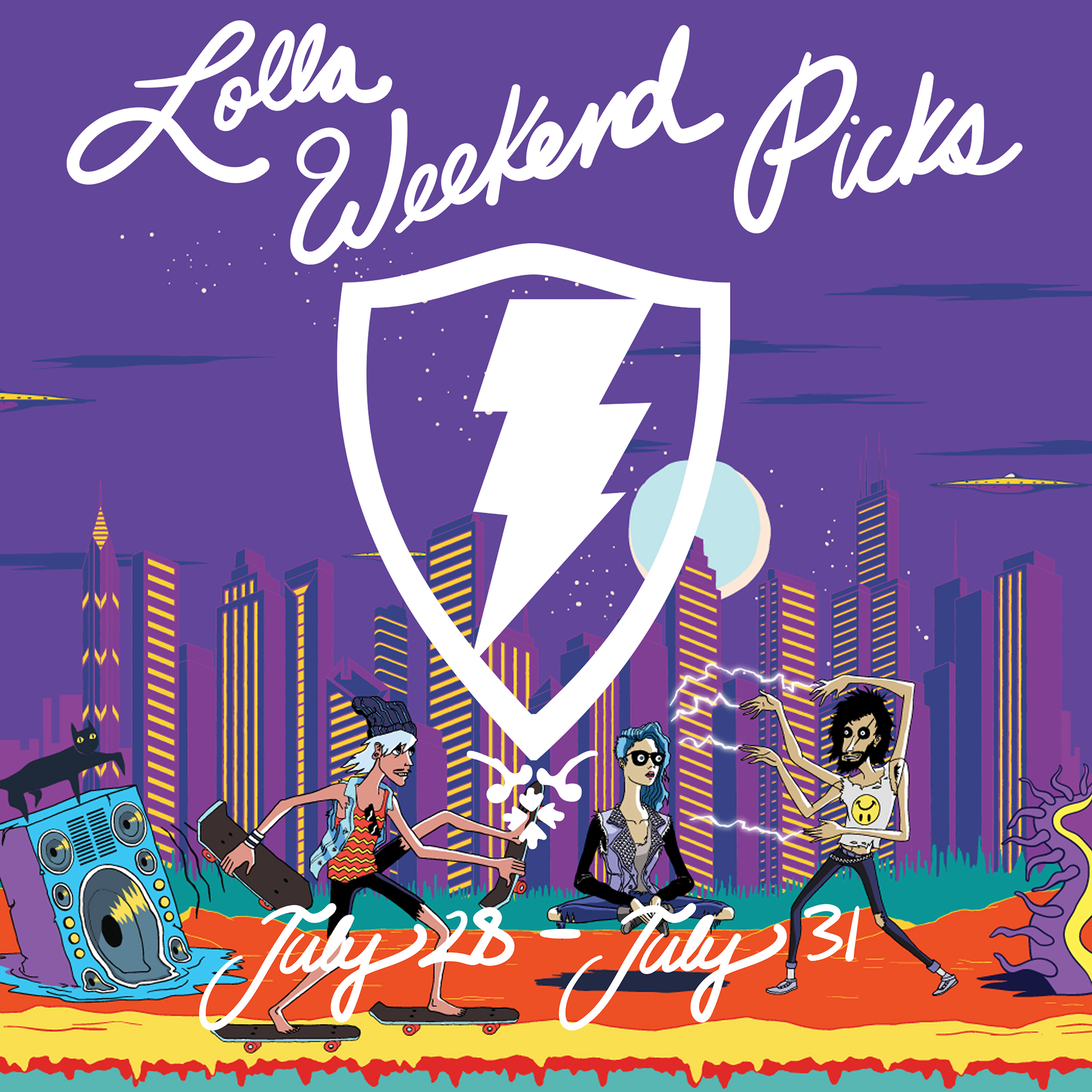 THURSDAY:
Hiatus Kaiyote (2-3PM. Petrillo Bandshell)  – This soul packed quartet from Melbourn, Australia is sure to get you dancing early Thursday. Frontwoman Naomi "Nai Palm" Saalfield is an all around talent as she laces crowds with enchanting guitar parts and even more powerful voice.
Danny Brown (4-5PM. Petrillo Bandshell) – It's been a while since the world has heard the crack-head like cackle of Danny Brown's voice, but the Detroit MC is back to perform at this years Lolla. His debut album XXX was one of my favorites from 2011 and he's managed to pump out tons of more hits and bangers since. Be ready for a very loud and energy packed performance from Danny.
Towkio (5:15-6PM. Pepsi Stage) – The Savemoney Mothership has landed at Lollapalooza 2016 and their first showing is the dance-based Towkio. His Wav.Theory project was one of my local favorites from 2015 and he's only gotten busier with the music making since. He's been spending lots of time in the studio with Rick Rubin and just released his impressive Community Service 2 EP.
Cashmere Cat (7:45-8:30. Pepsi Stage) – You might not know this Norwegian producer/DJ, but I can almost guarantee you've heard his work before. Moonlighting for artists like Kanye West and Ariana Grande, Cashmere Cat's lucid production and child-like appreciation of music lands him as one of my must see electronic acts of this years festival. He even represented Norway in the World DJ Championships from 2006-09.
FRIDAY:
SABA (12:50-1:30. Pepsi Stage) – One of Chicago's best young rappers, SABA, has been slightly quiet over the last year or so, but don't think that will effect his sure-to-be incredible Lollapalooza set. A former Columbia College Chicago student, Saba's ComfortZone mixtape is still a city favorite as well as his recent collaboration with Chance The Rapper on "Angels". And big ups to the two, who just received a VMA nomination for the music video!
Modern Baseball (1:45-2:45. Petrillo Bandshell) – This garage rock band from Philly is a great way to start your Friday. With a bolstering energy and sense of nostalgia, Modern Baseball is one of the most exciting new acts performing this year. Good for fans of Blink-182, (early) Fall Out Boy, and most other music that would strike a cord in an angry 13-year-old.
Joey Purp (2:30-3:15. Perry's Stage) – Joey Purp's iiiDrops mixtape might just be my favorite Chicago rap project of 2016 (it's tied with Coloring Book.) The Savemoney affiliate will continue the Savemoney Lolla takeover on Friday and is sure to bring out tons of special guests and perform all of our favorites. I promise you, even if you swore last year to never return to Perry's stage, this will be worth it.
M83 (6-7PM. Samsung Stage) – I like to describe M83's music by asking people to imagine the music that would be playing as you took off on a spaceship towards the moon. And for the most part, people get the connection once they hear the music. M83, the project of French musician Anthony Gonzales, is an electronic infused, power rock musical experience. Their new album Junk is a psychedelic, space-like listening experience that translates beautifully into live performance. I won't be missing this set for the world.
Future (6:45-7:45PM. Bud Light Stage) – No explanation needed. Just go.
Radiohead (8-10PM. Samsung Stage) – Again, no explanation needed. Just go.
SATURDAY:
LOLAWOLF (1-2PM. Bud Light Stage) – LOLAWOLF, the musical project fronted by Zoe Kravitz, is more than just a beautiful lead singer. These guys can rock. Their 2014 LOLAWOLF EP is an interesting blend of electronic production and indie rock. It's out there and fun to dance to. A perfect way to start your Saturday.
Tory Lanez (2:50-3:30PM. Pepsi Stage) – Most people would consider Toronto to, musically, be run by Drake and OVO. However, Tory Lanez is probably the most significant exception. The 24 year old singer had his biggest hit of his career this year in "Say It" and released an impressive EP with electronic label WEDIDIT last year. His very energetic performances and quality discography qualify him as one of the better R&B singers out right now.
Leon Bridges (4:45-5:45PM. Bud Light Stage) – If you feel like stepping back into the 1960's at any time this weekend, be sure to find yourself at Leon Bridges set. The young musician has blown up in the last year, with an impressive debut album in Coming Home and LOTS of product deals. You might recognize the dapper young man from any number of commercials he's been in this year.
Grimes (7:30-8:30PM. Lakeshore Stage) – Claire Boucher, or Grimes, might be one of the most exciting female musicians out right now. With an almost cult-like following and the music to back it up, Grimes is sure to put on an empowering performance on Saturday evening. From her first album Visions to her latest in Art Angel, Grimes can really do it all.
Vic Mensa (9-10PM. Pepsi Stage) – It wouldn't be right not to catch every member of Savemoney at Lolla this year, right? I think so too. That's why I'll for sure be catching Vic Mensa. I just got a chance to see Vic in NYC after the release of his There's A Lot Going On project and was blown away by his performing ability. I trust that if you go to this set, seeing Vic perform "Liquor Locker" will be one of your highlights of the weekend.
SUNDAY:
Smino (12-12:30PM. Pepsi Stage) – One of my favorite artists performing at this years Lollapalooza is Saint Louis rapper Smino. He's one of the most skilled rappers coming up in Chicago right now, and with production from Chicago's Monte Booker, his music really pops. Though its early, I strongly encourage you to get out to the festival when it starts to catch Smi.

D.R.A.M. (1:50-2:30PM. Pepsi Stage) – D.R.A.M. might just put on the most fun set on Sunday. You probably all know his work with the internet sensation track "Cha Cha", but D.R.A.M. has tons more great music than just that. His most recent hit with Lil Yachty in "Broccoli" will definitely have the crowd on Sunday on 10.
FIDLAR (2:45-3:45PM. Bud Light Stage) – L.A. skatepunk band FIDLAR only knows how to do two things: get fucked up and play loud ass punk rock. Their live presence is the reason the band has become so popular over the last couple years, with great party rock songs under their belt. You might catch an elbow to the head during their set, but I promise it'll be worth it.
Bryson Tiller ( 5:45-6:45PM. Petrillo Bandshell) – The man most likely responsible for a large percentage of the children made this year finally has a big stage to perform on in Chicago. Just a couple months ago, tickets for Bryson Tiller's House of Blues show were reselling at $150 a ticket. Now, he's playing an awesome evening slot on Sunday. I'm not the biggest fan, but I'm surely going and staying until her performs "Exchange".
Vince Staples (7:45-8:30PM. Pepsi Stage) – Long Beach rapper Vince Staples first broke onto the scene as a clever youngster on some of the most early Earl Sweatshirt records, but now, he's found a path of his own. The very outspoken and conscious Staples is one of the best at bringing forward a positive message in his music while not sacrificing and style and craftsmanship along the way.
LCD Soundsystem (8:25-10PM. Samsung Stage) – LCD Soundsystem is a must-see for me this year because of their controversial end in 2011. At the peak of their success, the group decided to call it quits and vanished for the last 5 years. Now, on a massive worldwide reunion tour, LCD Soundsystem is slated to give Lollapalooza goers with a dance fest to end the festival this year. I couldn't really think of anything more special.