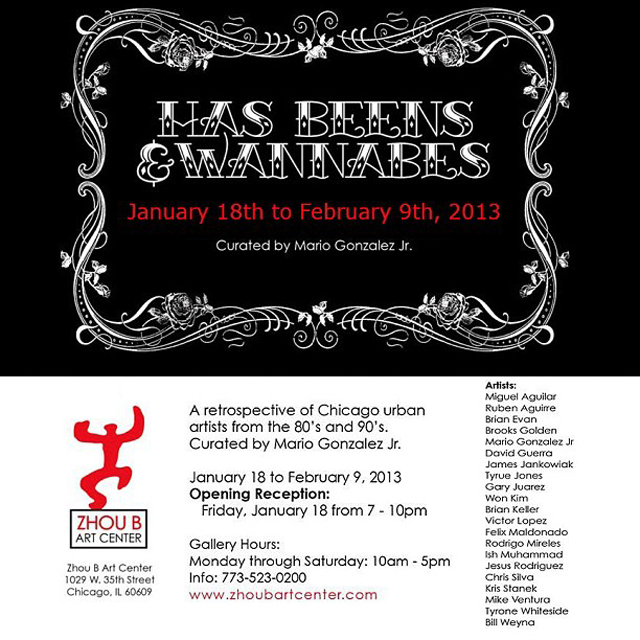 Be sure to check out this art exhibition. The homie, Solo, as well as a ton of Chicago's Finest will be showing.
FRIDAY, JANUARY 18, 2013 – FEBRUARY 9, 2013
Opening: Friday, January 18, 2013 7pm – 10pm

HAS BEENS & WANNABES
Has Beens & Wannabes" is a group exhibition featuring artists that have forged their urban style and imagery in the greater Chicago and Midwest area since the early 80s. These artists started off as teenage subway graffiti artists and slowly gained notoriety in Chicago and abroad. The early 90's were not exactly friendly years to many of these artists who became exiled and unappreciated. Despite the efforts to quiet their voices, these artists continued making their mark and maturing as visual artists.
In recent years and after "old world" mentalities have come to past, Europe, South America and the rest of the world have began to appreciate the work of this generation of artists. They have been considered pioneers of the most influential urban art movements of our time. Transforming art, design, music and fashion, these urban legends have risen again to advance themselves into the contemporary artistic landscape.
For the first time since 1986, The Zhou B Art Center in Chicago along with curator and graffiti legend Mario ZORE Gonzalez Jr have gathered a selection of URBAN LEGENDS from the greater Midwest area for this historically significant exhibition. Has Beens and Wannabes honors these artists who started their careers in the 80's and 90's and whose imagery is now recognized as an important contribution to the history of art.
This exhibition serves as a preamble to other important regional, national and international exhibitions to take place as early as 2013 in venues such as the School of the Art Institute of Chicago, Chicago Cultural Center and the National Museum of Mexican Art among many others.