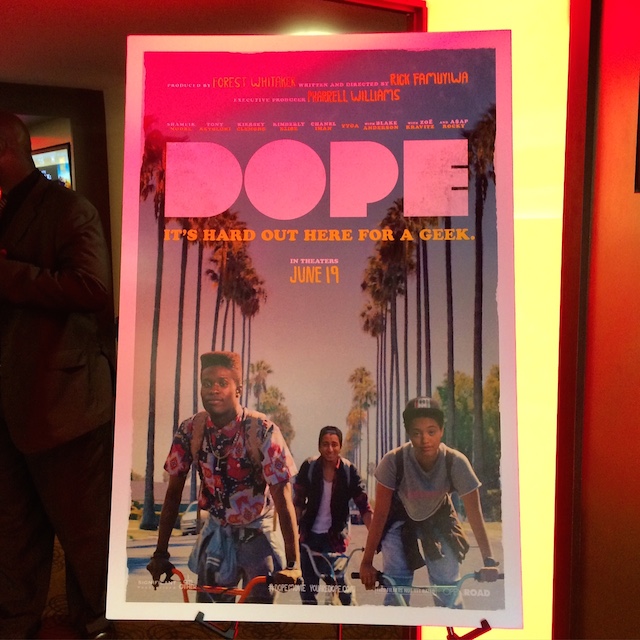 So on Monday, June 1st, we got invited to preview the unreleased movie "Dope:It's Hard Out Here for a Geek" executive produced by Pharell Williams, which is set to release on June 19th.  First let me say that the movie theater was super dope, no pun intended, lol.  That was my first time going to the AMC 600 North Michigan theater.  It had the really nice reclinable leather seats, top of the line IMO.
With that said let me get into the movie without ruining it.  It was set in LA.  Starring 3 different kids attending high school, dealing with shit that high school kids go through while growing up in the hood.  Basically bullies, drugs, gangs and violence, well for those of us that grew up in the bad neighborhoods per say.  The thing that made these kids different from the other characters with similar scenarios is that they were infatuated with "90's" culture/fashion and music.  I'm not going to talk about the story line but more about the music and the fashion.  Click more to continue reading and to check out the trailer along with some pics.
     Some recognizable brief cameos, ASAP ROCKY and Tyga. During one of Rocky's scene he was rocking nothing but Black Scale, super dope to see the homie Megas brand on the big screen.  I also noticed one of the actors rocking some cross colors, a brand that was super popular in the 90's, I wonder if this is their shot at coming back into the fashion scene?   I also saw a couple of clothing pieces from Undefeated and Crooks.  I feel like Pharell Williams had a big say with the wardrobe and stylings for the actors.  The main actors looked way to well put together for him not to, from the hats, accessories and the shoes.
     Anyway, the soundtrack to the movie is basically 90's music, not your typical Biggie or TuPac songs that you would expect, but more that boom bap, east coast sound, like Busta Rhymes or A Tribe Called Quest.  For all those that like that 90's east coast sound, you will def love the sound track, me I can't say I'm a huge fan, but I can definitely appreciate the music.
     After watching the movie, I thought it was funny and entertaining.  Definitely worth another watch, but not too memorable for me. It didn't have a particular scene that stood out to me like other movies that I had watched.  For example, if I had to compare it to other movies like Boys in the Hood, Menace to Society, or Paid in Full, it was missing that memorable scene.  I understand that this wasn't a gangster movie at all, but still it needed that memorable scene for me, that scene that made me feel something, I don't know, maybe it's just me and I'm being too analytical about it, but yeah I didn't see that scene.  I'm sure that if you have seen Paid in Full or any of the other movies I mentioned, you understand what I am  talking about when I say memorable scenes; or maybe I just need watch DOPE one more time.  Either way the movie did have a couple of funny scenes and the acting was on point.  It's worth a watch and for me a re watch.  When you guys watch it let me know what you think.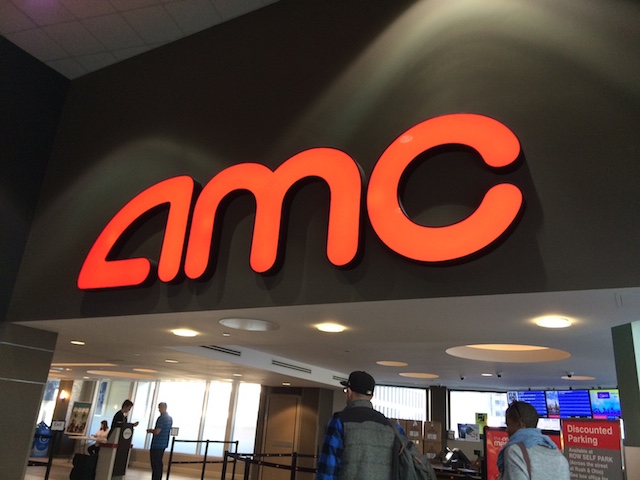 AMC 600 North Michigan Ave.
Theater steeze, Ty Kid in the cut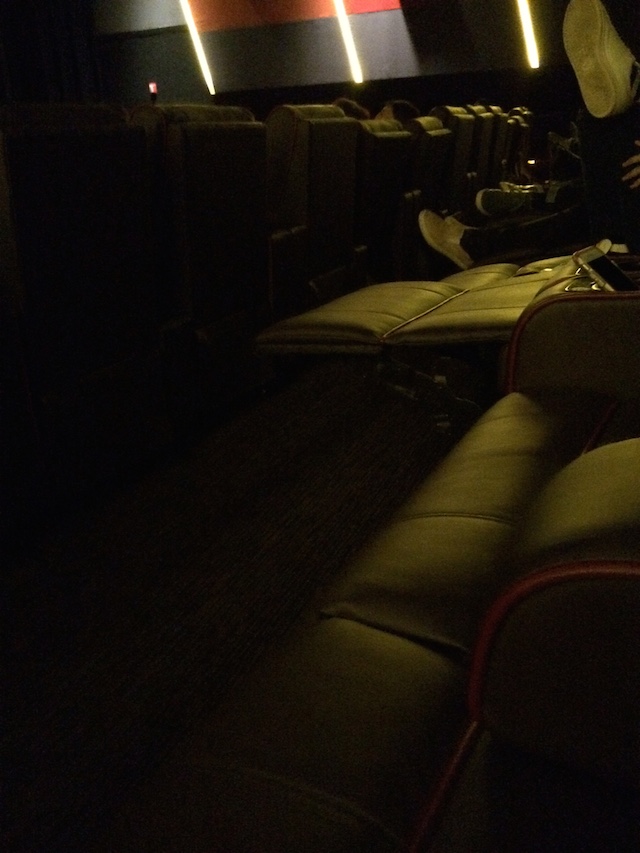 Soo comfy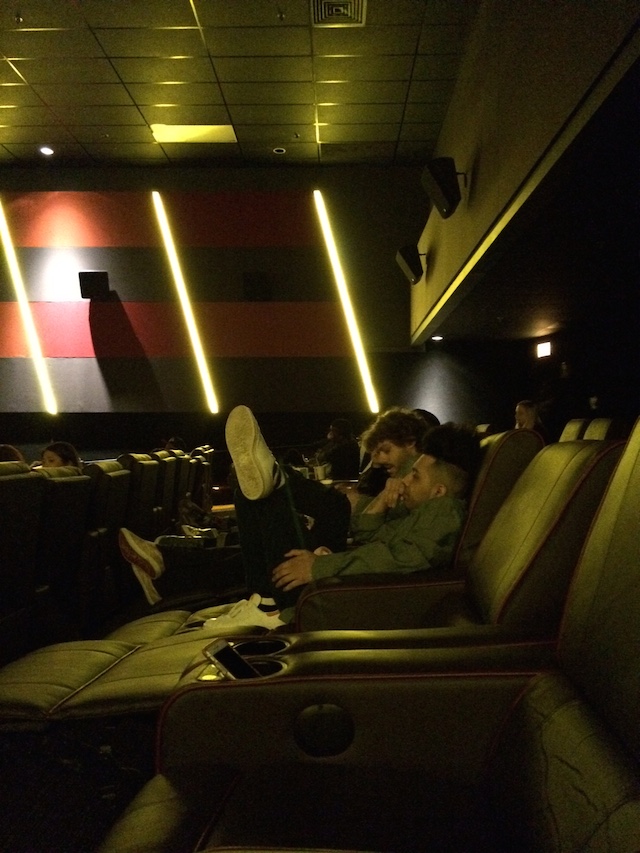 Stefan showing us how to use the seats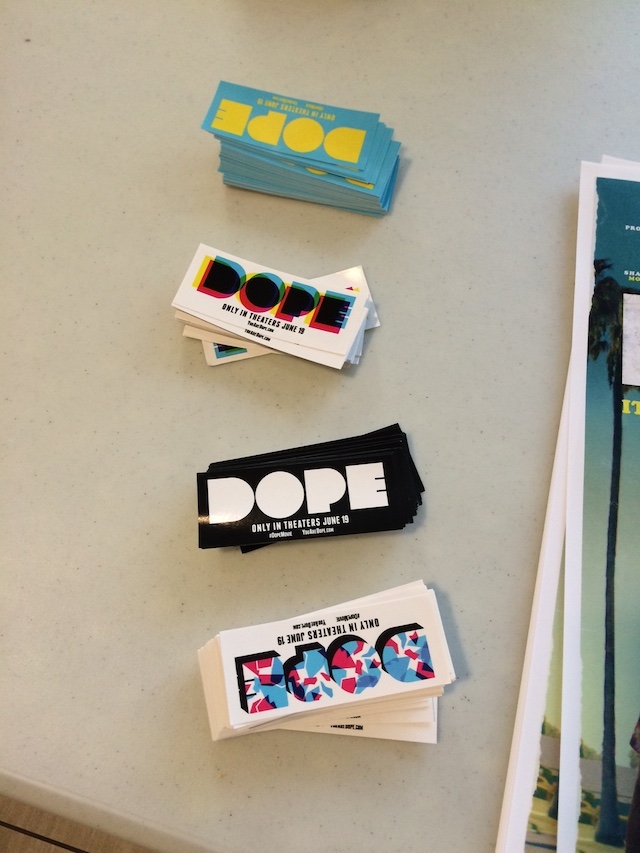 Promo stuff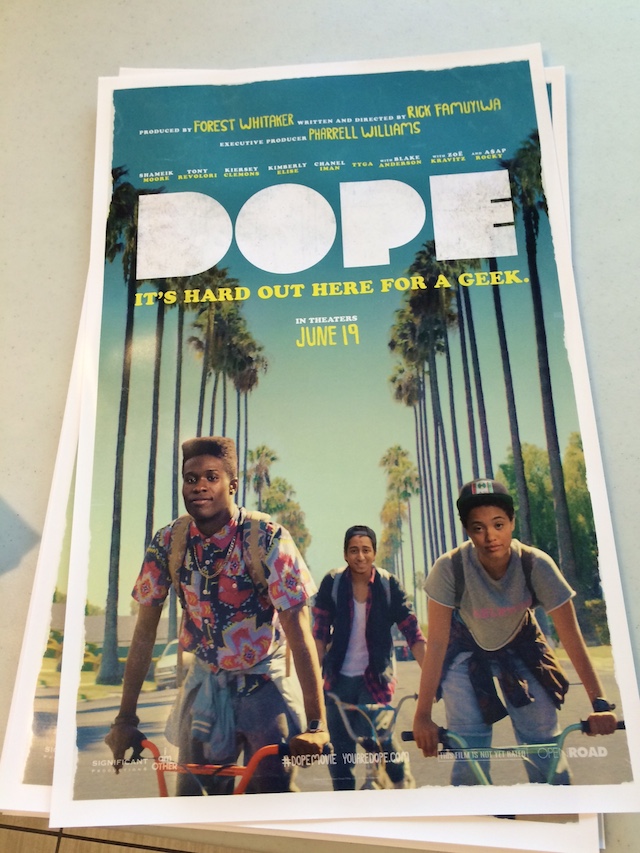 Promo posters

Part of the movie going squad, Stefan, Miranda, Kolar, Blonde girl (forgot her name Treated), Lamby and Auggie